Regular price
$124.99
Sale price
$99.99
Unit price
per
Sale
Sold out
Meet the ultimate solution for all your personal organization and security needs! With its powerful encryption technology, Omni DataSafe allows you to effortlessly store and manage everything from passwords and financial statements to medical records and estate plans.
This tiny yet mighty USB is easy to use and ensures that your sensitive information remains safe and secure at all times. Say goodbye to cluttered file cabinets and experience the convenience of Omni DataSafe - your all-in-one personal organizer.
Specifications

Hardware Interface - USB 3.0
Encryption - 256-bit AES
Color - Red
Operating Systems - Windows, macOS, Linux
Storage Capacity - 32GB
Read Speed - 161-190MB/s
Write Speed - 38-50MB/s
Material - ABS+Zinc Alloy
Unit Size - 0.98 x 0.41 x 3.26 in
Unit Weight - 1.24OZ
Batteries - Lithium Polymer
View full details
What Our Customers Think:
"The Perfect USB"

My son teased me when he found out I stored my passwords in a spiral notebook in my home office desk. He sent me this product as a way to up my security game, and I have to say I'm impressed. This is honestly just as easy as the notebook, and a thousand times more secure.

- Craig W.

"Great for Tech Newbies"

I don't know much about encryption, but even a tech newbie like me knows a keypad on a USB is more secure than one without. I was relieved at how easy it ended up being to use. I like that I can't be taken advantage of just because I don't know much about computers, and I feel more protected from hackers now.

- George D.

"Perfect Data Vault"

This was exactly what I was looking for - a secure way to store personal financial documents. I've been searching for so long! The buttons are small but nice. Functionality is great - if not unlocked, the drive does not even show up in the operating system. I give it a thumbs up!

- Wendy C.
30-Day Money-Back Guarantee

24/7 Live Support Agent Chat

No Hassle Returns & Exchanges

Fast & FREE U.S. Shipping
Organize And Secure EVERYTHING
With Omni DataSafe's intelligent software, you can organize everything from your medical history, passwords, and finances, to your retirement and estate planning documents and everything in between.

Each of your personal documents will be kept completely safe using Omni DataSafe's government-level encryption technology.
Cross-Platform Compatibility
Omni DataSafe's USB and intelligent software is compatible with Windows, macOS, and Linux, giving users flexibility across multiple platform types and operating systems.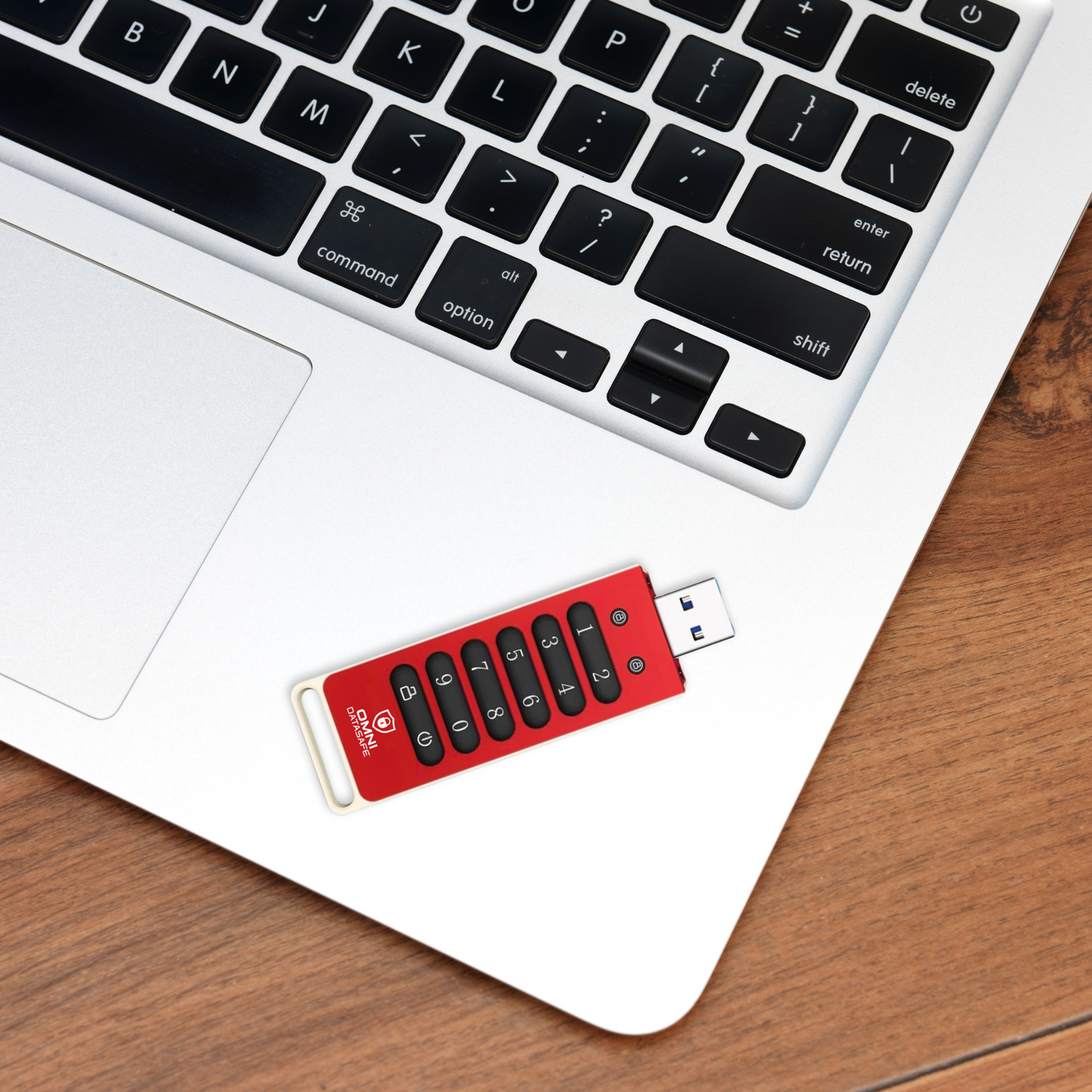 Never Worry About Dangerous Hackers
Omni DataSafe allows you to store your private information and personal data without relying on cloud storage or internet usage, meaning your files are kept safely out of the hands of malicious internet hackers.

You can easily view your data on nearly any computer, whether on or off the internet, no matter where you go.
Frequently Asked Questions
What devices are compatible with Omni DataSafe?

Omni DataSafe is compatible with Windows, macOS, and Linux, giving users flexibility across multiple platform types and operating systems.
Can I use Omni DataSafe without setting a PIN/code?

As a full disk encryption USB, Omni DataSafe can never be used without a PIN.
Can Omni DataSafe be accessed by someone else if stolen?

NO! After 10 consecutive incorrect attempts, the brute-force, anti-hacking mechanism will reset and erase all the information stored on the USB.
I'm worried about forgetting my PIN - Is it difficult to make multiple backups so my children, spouse, and I have our own backups of the same essential documents?

The proprietary Omni DataSafe software includes an option allowing users to easily duplicate files onto other Omni DataSafe devices so everyone in your family can have secure access to important, private documents. We also recommend writing your PIN down in the space provided inside the instructions insert included with your Omni DataSafe, and storing it separately in a safe place.
30-Day Money Back Guarantee
We are committed to delighting each Omni DataSafe customer. We are so confident you will love it that we offer a no-risk 30-Day Money Back Guarantee, starting on the day of delivery.
If you have any issues and are not completely satisfied with your purchase for whatever reason, simply contact support@omnidatasafe.com or reach out to us on our Contact Page.